« Volver
Best Western Inn and Suites Joliet
4380 Enterprise Drive, IL 60431 ,
Vista general

Mostrar mapa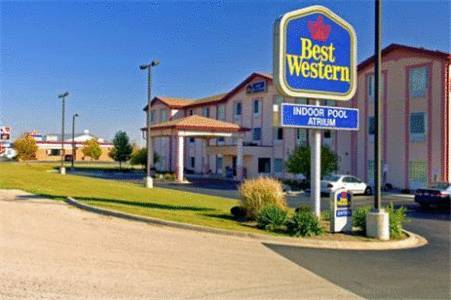 Best Western Inn and Suites Joliet - Descripción
Best Western Joliet Inn. El Best Western Joliet Inn es un hotel de 2 estrellas enclavado en Joliet. Ubicar en el casco antiguo de la ciudad, podrá disfrutar de las principales atracciones de interés de la ciudad a pie. Empiece la jornada con unas sesiones en el gimnasio después de una agradable noche en una de sus 60 habitaciones, con internet gratis y climatización. Los clientes del hotel podrán acceder a la spa y el jacuzzi. Si es deportista, ¿qué tal si practica golf? Disfrute de un chapuzón en la piscina interior cubierta del hotel. Un desayuno continental se sirve diariamente.

Best Western Inn and Suites Joliet estilo (s): Familiar ,Económico
Este hotel pertenece a : Best Western™
Best Western Inn and Suites Joliet prestaciones y servicios
Parking:
Aparcamiento privado , Parking gratuito(Encontrar otro hotel con Parking en Joliet)
Acceso a Internet:
Acesso a Internet ADSL , Acceso a Internet(Encontrar otro hotel con Acceso a Internet en Joliet)
Generales
Ascensor
Comidas para grupos
Desayuno continental
Habitaciones familiares
Almuerzo disponible
Desayuno servido en el restaurante
Módem/dataport
Pasillos interiores
Ascensor
Caja fuerte
No fumador
Prensa del día gratis
Actividades
Campo de golf cercano
Jacuzzi
Pista de tenis
Instalaciones deportivas
Gimnasio
Piscina cubierta
Spa-Balneario
Servicios
Servicio de lavandería
Servicio de limpieza en seco
Sala de reuniones
Alquiler de coches
Fax/fotocopiadora
Centro de negocios
Servicio de habitaciones
Opiniones de los internautas
Han estado en este hotel no por elección, sino porque de su ubicación.
Nota del viajero :
Esto resultó ser una parada de la noche buena. La habitación y el personal eran buenas y no había nada en detrimento de la calidad esperada de este nivel de establecimiento.
Nota del viajero :
Tuve una gran estancia en el Best Western Joliet & Suites. La habitación estaba muy limpio y el personal fue muy útil. Yo recomendaría este hotel a cualquiera que viaje a Joliet, IL.
Nota del viajero :
Actividades a proximidad
Estadio

9,1 km

Silver Cross Field:

Puerto y puerto deportivo

14,9 km

Three Rivers Marine Service, Inc.:

10,8 km

Channahon Big Basin Marina:

Museo

13,4 km

Lockport Township Park Museum:

8,7 km

Joliet Area Historical Museum:

8,3 km

P. Seth Magosky Museum of Victorian Life and Joliet History:

Golf y otros deportes

11,5 km

Joliet Country Club:

13,5 km

Links At Carillon The:

5,7 km

Wedgewood Golf Course:

9,4 km

Mistwood Golf Course:

11,8 km

Prairie Bluff Golf Club:

10,1 km

Heritage Bluffs Public Golf Course:

15,5 km

Broken Arrow Golf Club:

14,9 km

Woodruff Golf Course:

11,6 km

Prairie Bluff Public Golf Club:

Otro paisaje marítimo

15,8 km

Dresden Island Lock:

10,6 km

Sanitary Drainage Ship Canal Lock:

7,3 km

Brandon Road Lock:

Casino

8,6 km

Harrah's Joliet Casino and Hotel:

5,2 km

Argosy's Empress Casino:

Spa y piscinas

15,7 km

Lewis University Student Recreation and Fitness Center:

12,8 km

Denick Pool:

15,4 km

Lockport Township High School Community Wellness Center:

3,8 km

Charlie Fitness Club:

2,3 km

Body Energetics Day Spa:

8,8 km

West Chicago Community High School Pool:

9,9 km

Union Station Multiplex:

1,8 km

Galowich YMCA:

6,9 km

Mario Tricoci Too:

10,6 km

C.W. Avery Family YMCA: